Looking for a gift for that tennis player in your life that seems to have everything? You know they already have balls and rackets, so what else is there? You've come to the right place to find out.
Today we will be looking at some of the not-so-obvious tennis gifts for the enthusiast in your life. More specifically, we will be getting into different kinds of tennis equipment, apparel, and even some fun, tennis-themed gifts that are sure to delight novice and avid players alike.
So, stop agonizing over what to buy and scroll on through to see the gifts for tennis players that they are sure to love. (See what I did there? Love, like the tennis score? Never mind, moving on…)
Note: If you're looking for fun novelty gifts like wine glasses, coffee mugs, or tennis-themed wrapping paper, scroll to the bottom section of the article. We'll start off with tennis equipment and clothing.
Gifts for Tennis Players: A Few Things to Keep in Mind
Even though everything on this list is a solid tennis gift, there are a few things you should probably think about before rapidly adding everything to your cart. The first thing to consider when buying gifts for tennis players is, of course, whether they may already have these items.
If they already have a tennis bag they love in near-perfect condition, for example, you may not want to waste your time picking out a new one. If you want to keep your gift a surprise and think the person may become suspicious if you ask too many questions about their tennis items, consider asking someone they are close to for advice.
While you are asking around anyway, you may want to get some feedback on the individual's style, which is another important thing to think about when buying gifts for tennis players. It can be tempting to get someone an item because it is related to something they love, but if it is not keeping with their tastes, then there may not be much point.
For example, do not get them a shirt in a bright color or socks with tennis racket designs all over them if it is not something they would typically wear in their daily lives.
Now that we have gotten that out of the way, let's take a look at some of our favorite tennis gifts. This post is broken down into sections: Tennis Equipment, Tennis Apparel, and Random Tennis Gifts.
Tennis Equipment
If you are not a tennis player yourself, or you're just a casual player, who's new to the sport, you may be wondering what kinds of tennis equipment even exist outside of the rackets and balls.
It may surprise you to know that there are lots of options to choose from to complement your basic tennis gear and equipment. Keep scrolling for a list of some of our favorites!
For the Minimalist: HEAD Racket Cover
For tennis beginners, a racket cover is a good gift choice. This racket cover from HEAD (a well-known and well-trusted brand in tennis) features a big, padded compartment that provides adequate protection for one racket, as well as some extra room for small items like your balls, keys, and phone. That's perfect for folks who bike or take public transit to their tennis matches.
The HEAD racket cover also has an adjustable shoulder strap, so it can be adapted to any player's size and comfort level.
For the Packrat On-the-Go: LISH Tennis Backpack
When a shoulder strap just will not cut it, a great gift for tennis players is a tennis backpack. This allows them to go hands-free if they are biking to the courts or otherwise have their hands full. This LISH tennis backpack can comfortably hold one or two tennis rackets and comes with a compartment specifically to keep dirty shoes away from other equipment and apparel.
It has plenty of storage for other things as well, with a front zipper pocket for smaller items, an elastic side pocket for a water bottle, and a larger main compartment to hold all your balls, towels, and other accessories such as replacement parts. Speaking of which…
Just in Case: Solinco Replacement Strings
This replacement string package from Solinco is designed to provide maximum power and spin for your racket, both of which are important to any tennis player. They also have a thickness gauge of sixteen, so they are a little on the thicker side for added durability. These strings have a ton of 5-star reviews, so they should be a good choice when it comes to gifts for tennis players.
Not everyone knows how to string a tennis racket, so keep that in mind. We have an entire article about the best stringing machines, if you'd like to compare them. and a post about the pros and cons of whether you should string your own tennis racket or pay someone to do it.
For the Best Grip: Gamma Replacement Grips
These replacement grips from Gamma are supposed to be super comfortable as well as durable, so they should keep any tennis player's hands feeling good after even hours of play. They come in the contoured grip pictured above for added traction and are also available in a more textured tread pattern to enhance one's grip even further on a racket.
Customers seem to agree that it is relatively straightforward for players to put this replacement grip on the racket themselves. Still, if they have trouble, plenty of tips and tricks are available online.
For Extra Tackiness and Comfort: Wilson Overgrip
Wilson is another well-known and respected name in tennis equipment, and their reputation for quality products continues with this Wilson comfort overgrip. These emphasize comfort and tackiness over moisture absorption and even have a tread pattern that provides extra traction.
These are an excellent choice for the beginner player in your life that is still getting the feel of their racket and would benefit from an enhanced grip. When giving this gift, though, you may want to mention to the recipient that it comes with adhesive tape to finish wrapping the grip up near the racket head. Many reviewers found this unclear in the provided instructions and just threw out the finishing tape.
For Moisture Absorption: Tourna Overgrip
If you are shopping for a high-level player or for someone who just tends to get sweaty, a dry feel overgrip would be a good choice. This overgrip from Tourna tends to become tackier the more you sweat, so it can be appropriate for amateurs, professionals, and everyone in between. It provides maximum sweat absorption, so players won't need to be concerned with their hands slipping in even the hottest of weather.
Silly But Practical: Busybee Vibration Dampeners
Vibration dampeners are are essentially shock absorbers. They're little pieces of rubber that reduce the strain on your arm. These Busybee vibration dampeners are fun because they display tennis-related motivational phrases like "You got this," "Take it easy, stay calm," and "I am a tennis wall."
Not a fan of the silly expressions? We have plenty more options in our guide to the best vibration dampeners.
Balls in Bulk: Gamma Pressureless Tennis Balls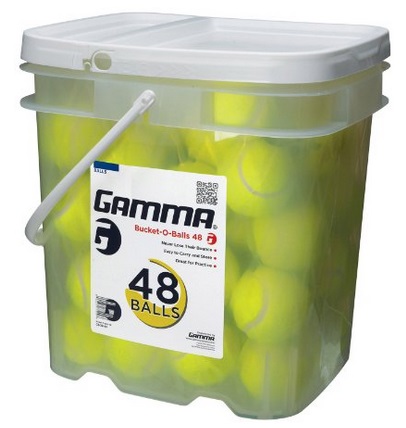 Tennis balls can be a tricky gift, since many competitive players have a particular brand they prefer. If you know that brand, go for it. But if the person you're buying for is a beginner or child, who doesn't care about the specific quality of ball, consider this bucket of Gamma pressureless tennis balls. They come in 48-packs and 75-packs. That's a ton of balls!
These balls are also appropriate for tennis teachers and tutors, or for regular players who practice frequently and need cheap balls while they're practicing drills. Don't worry about having too many balls; you can always recycle them!
To Cool Down: Sukeen Microfiber Towels
On an especially active or hot day, cooling towels can provide some much-needed relief to any tennis player. These Sukeen Microfiber Towels are made of a breathable, evaporative material that helps keeps players cool by using the moisture in the towels to absorb the sweat from their bodies.
These towels can keep cool themselves for about 3 hours and are available in various colors to suit every player's style. This pack even comes with carabiner clips in colors to match each towel and a reusable waterproof pouch, so instead of storing used, sweaty towels inside their bags, players can conveniently attach them to the outside.
Added Support: Mueller Adjustable Elbow Brace

Has the tennis player you're shopping for complained about forearm pain when they play? If so, you may want to consider picking them up something that will help alleviate their discomfort. One of the best gifts for tennis players that need this type of pain relief has to be a pack of elbow braces.
This Mueller Adjustable Elbow Brace make sure their elbows stay in place while playing and comes with both small-medium and medium-large straps to ensure the perfect fit. This pack even comes with an e-guide and clear instructions so players can be sure they are using them correctly and appropriately.
Ball Collecting Convenience: Tourna Ball Hopper
This Tourna ball hopper would be an excellent choice for someone who practices with a lot of balls. The hopper can hold a lot of balls (up to 80!) while still being lightweight and durable. Many ball hoppers on the market are made of metal which can be heavy and tend to rust.
If you instead choose to gift a hopper like this, which is made of polypropylene, your tennis player will not have to worry about these issues. This hopper also has locking legs, a securely shutting top, rotating bars at the bottom for easy pickup, and even wheels, which are all features that players of any skill level will surely appreciate.
Hydration Essential: Iron Flask Water Bottle
Both on and off the court, hydration is important! Help quench your tennis player's thirst by getting them a quality vacuum-insulated bottle like this Iron Flask water bottle. This stainless steel one from Iron Flask keeps drinks hot for up to 12 hours and cold for up to 24 hours, so no matter how long players are on the court, they will have access to water to help cool them down and avoid dehydration.
Not only does this bottle come in a bunch of gorgeous colors and patterns, but it also comes with three different lids, including a carabiner straw lid (with two straws), a flip lid, AND a stainless steel lid!
It's also 100% BPA-free, non-toxic, and comes in multiple sizes ranging all the way up to 64 ounces. Just remember that any size over 22 ounces will not fit in an average-sized cupholder.
For Kids and Beginners: Eye Coach Tennis Training System
If you're really looking to splurge, one of the best gifts for tennis players who want to improve their skills would be an at-home tennis training system. Endorsed by Billie Jean King, the Eye Coach Training System allows players to practice 17 specific shots and the timing, control, power, and technique skills necessary to accurately and powerfully hit the ball. It is like a ball machine and personal training coach all in one!
Best of all, it is portable, compact, and can be used in any kind of weather – all you need is about 10 feet of space. This is a great option for players of all skill levels looking to improve their skills, and it is even available in a junior option for those under 4'2".
Tennis Apparel
If tennis equipment is not the way to go for your gift, how about some apparel instead? When buying clothing-related gifts for tennis players, it's important to consider where they play, the climate, and the individual's style. Do they play in clubs or at the park? Are they typically playing in hot or cool weather? Do they prefer sleeves or sleeveless? Shorts or skirts? Hats or visors? Bright colors or neutrals?
Tennis apparel can come in a lot of different colors and styles, so it shouldn't be too hard to find something suitable for your tennis player. Clothes and hats can easily get worn out and stained if used regularly, so some fresh tennis apparel can be a safe and appreciated choice for novice and avid players alike. Let's look closer at some essential tennis apparel items for both men and women.
Women's Tennis Shirts
A classic look for any tennis player is the polo t-shirt. This Hanes Polo Tshirt is both practical for the casual player and preppy enough for just about any tennis club. This one from Hanes is even moisture-wicking, which means that if a player starts to sweat, it will help keep them dry and cool in warmer temperatures. This shirt also has a 50+ UPF rating that provides excellent UV protection.
If you know your tennis player prefers a sleeveless option, this sleeveless polo shirt provides the same moisture-wicking and UV protection as the t-shirt. They both also come in a variety of colors, so you are sure to find at least one that suits your tennis player's style.
Men's Tennis Shirts
Wanna look like Rafael Nadal on the court? If you are looking for a more casual, sleeveless choice, these athletic compression sleeveless shirts provide the same moisture-wicking technology as well as the UPF 50+ rating for UV protection.
A compression shirt like this is also nice because it fits snugly to the body, so there is no extra fabric getting in the way of a player's swing and serve. This brand even comes in a two- and three-pack for a relatively low price, so the recipient can have a choice of colors to suit their mood or match their shorts.
Shorts for Men and Women

These Baleaf Women's Shorts have pockets for your necessities, feature a split-leg design to increase range of motion, and even have a built-in mesh liner to help wick away moisture and keep you dry. Both items come in various colors, so if you are shopping for a whole tennis outfit, you should not have any problem choosing colors that look good together.
For the males, these Adidas club tennis shorts are probably a pretty safe bet if you are shopping for someone who plays tennis at a club. These are not only supposed to be soft and comfortable, but they also have moisture-wicking technology and ventilated fabric to keep players cool and dry on the courts.
For the more casual player, these gym shorts from Under Armour are also comfortable and moisture-wicking. These have anti-odor technology built into them as well, which is ideal since tennis matches produces so much sweat.
Tennis Shoes for Kids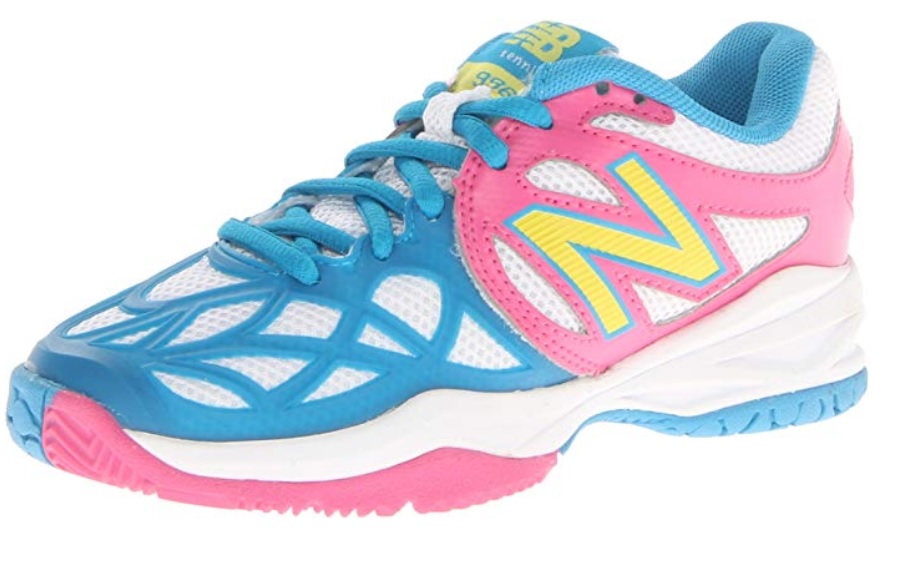 Generally, we wouldn't recommend buying shoes for a tennis player, because so much personal preference goes into a shoe choice. We do recommend shoes as tennis gifts if you're buying for your kids, however.
The New Balance KC996 Tennis Shoe comes in "Little Kid" and "Big Kid" versions, for children up to 12 years old. The shoes have synthetic material along with mesh for ventilation. For more options, see our list of the best girls' tennis shoes.
If you're looking to upgrade your kids' tennis rackets, check out our guide to the best kids rackets.
Socks
Socks are not an exciting gift. I've groaned just about every time I've ever received socks as a gift in my life. And then, guess what? I inevitably wore those socks, every single time. Because everyone needs socks! Socks are one of the most practical gifts possible.
These unisex ankle compression socks are one of the best gifts for tennis players because many players may not realize the benefits of wearing compression socks instead of regular athletic ones. These improve blood circulation in the feet, which means they can give players the ability to move faster while expending less energy.
If the tennis player in your life suffers from ailments like plantar fasciitis, cramping, or swelling, these socks should be able to provide some relief. They come in two sizes for both men and women (small-medium and large-XL) so you should be able to find a decent fit for players of all shoe sizes.
Lightweight Caps
This Fitdom Lightweight Cap is a great choice for both male and female tennis players, as it has an adjustable Velcro strap that can tighten and loosen to get that perfect fit. It is also lightweight and breathable and even has mesh openings on each side to allow for excellent ventilation and relief from excess moisture and heat. It also has a rigid bill, which means it can help protect your face on both sunny and even rainy days.
Sweatbands
Yes, this classic '80s tennis look is back in style! This pack of Onupgo Sweatbands includes both wristbands and a headband that provide excellent sweat absorption and protection.
They are all made of odor-resistant, breathable, and non-slip cotton, so players do not have to worry about them slipping out of place and getting in their way. These soft and stretchy bands are suitable for all ages and genders and are available in a variety of colors to match anyone's personal style.
Random Tennis Gifts
Not everyone wants to give clothing or tennis gear. How about something more fun? Let's look at some of the more random gifts for tennis players.
Fun Shower Product: Tennis Ball Bath Bombs
How cool are these? These bath bombs shaped like tennis balls are perfect if the tennis player you're shopping for a bath person. If they are, you may want to consider picking up some of these tennis ball bath bombs.
These are the actual size of a tennis ball, made with all-natural ingredients, and have a fruity scent. You can give all three tennis ball bath bombs to one person or choose to split them up and gift them individually, as they are all separately wrapped.
Classy Tennis Gift: Tennis Wine Glass
This stemless wine glass featuring tennis rackets and a ball is a beautiful gift for any tennis lover who enjoys the finer things in life. Even if they do not drink wine, this glass will work just as well for any drink of choice. The graphic is etched into this fifteen-ounce glass, so you do not need to worry about it peeling off after a few uses. This is sure to be a "hit" with any tennis player!
Breakfast Gift: Tennis Coffee Mug
Some players are so good they drink the tears of their opponents with breakfast. At least, that's the message behind this tennis mug. The white mug has this phrase printed on both sides, so players will be able to remind others of their skills no matter which hand they like to drink with! Plus, it is safe for both the microwave and dishwasher, so it can be convenient to use over and over again.
Fun Footwear: Novelty Socks
Does your gift recipient like bright colors and crazy patterns? If so, these unisex novelty tennis socks are a fun and funky choice! While these are considered novelty socks, they are still lightweight, breathable, comfortable, and warm, so they can also be a practical gift that a tennis lover could wear all year long.
Practical Gift: Tennis Makeup Bag
This tennis makeup bag is a cute and stylish way for players to show off their love of tennis! It's 10 x 6.7 inches, making it large enough to hold cosmetics for travel or home use.
You don't have to use it for makeup, of course. The zipper pouch could alternately be used to organize smaller items such as coins, makeup, pencils, and other accessories. It is also small enough to throw in a player's tennis bag if they want to hold their essentials like keys, money, and cell phones.
Novelty Stress Toy: Stuffed Dammit Doll
Have you ever heard of a Dammit Doll? These are stuffed dolls for stress relief, which feature lots of different designs. This one is a Tennis Dammit Doll, with the image of a net and a bunch of balls.
Roughly 13 by 5.5 inches, the doll is designed to withstand any slamming, whacking, and smashing thrown at it. Consider it a gift choice for the frustrated player in your life who also has a good sense of humor. This tennis-themed Dammit Doll is small enough to throw in a tennis bag or to sneak into a drawer at work, so whenever and wherever a player needs to relieve some stress, it can be there to serve!
Essential Reading: The Great Book of Tennis: Interesting Facts and Sports Stories
Dig deeper into the history of tennis with The Great Book of Tennis. This book features stories about the personalities and achievements of some of the great players from decades past, up through some of the recent greats.
This is an ideal gift because it works for any tennis player, whether they're a newbie to the sport or someone who's been playing for years. Check out our guide to the best tennis books if you'd like to find more book gift suggestions.
A Gift to Use for Gifts: Tennis Wrapping Paper
Once you have your choice of the best gifts for tennis players all picked out, it's time to choose the perfect wrapping paper. This tennis flat gift wrapping paper featuring tennis racquets and balls is a great way to complete your tennis-related present. It can be difficult to get tennis gift wrap in just any store, so the player you are shopping for will hopefully appreciate the fact that you managed to hunt some down!
This pack of wrap even comes with 10 large sheets that will likely be able to accommodate any gifts you may also have in store for tennis players in the future.
Tennis Gifts FAQ
Now that we have seen many different ideas for gifts for tennis players, let's clear up any additional questions you may have.
1. What if they do not like or already have the products I choose?
This one is easy! All the products we have looked at today are available on Amazon, which typically has a fantastic return policy. However, if you buy something from one of the other sellers available on Amazon, double-check their return policy if you are unsure of your choices.
2. Is it a better idea to get tennis equipment, apparel, or random items?
This really depends on the person. If you have someone who is super picky about their equipment, for example, you may not want to take your chances there. Avid players will likely know a lot more about what works for them and what does not than beginners. If you have someone who is just starting out, though, they will probably appreciate just about anything so that they can try and find what brands and items work the best with their playing style.
3. If I choose to buy apparel and know the recipient primarily plays at a club, do I really need to be aware of a possible dress code?
In short, yes. Some tennis clubs absolutely will not let people in if they are not in the right kind of tennis clothing, even if they are paying members. If the individual sometimes plays elsewhere, then you do not need to worry about it as much, but they will likely get more use out of your gift if it will also work for the club court.
4. Do I need to spend a lot of money on this stuff?
Absolutely not! Most of the items mentioned today are under $50, and some are even under $20. That does not mean they are still not quality products.
Hopefully, by now, you have found the perfect idea or piece of advice for buying gifts for tennis players in your life. We have covered items for just about every tennis fan, so you find a tennis gift sure to delight tennis players of all skill levels. After looking through everything here, you should certainly be able to find something that they will love (see, I did it again!)
What are your favorite tennis gift ideas?