Tennis ball machines are the best way to quickly improve your on-court skills. By hitting with a machine instead of an opponent, you can hit hundreds of balls in the same time it would take to hit only a couple dozen with another human. So forget the mediocre playing partner and get yourself a tennis ball machine!
The best tennis ball machines are durable, reliable, portable, and versatile. They can set you up for a variety of shots, from overheads to backhands to volleys. They can mix up the spin, the height, and the direction of the balls to keep you guessing and force you to rely on your footwork.
Tennis ball machines can range in price from a few hundred dollars to a few thousand. It all depends how many bells and whistles you desire.
To be clear, this article is about tennis ball launchers for humans. Not the dog toys that shoot tennis balls. Those are fun, but obviously not useful for the folks reading this article.
The old saying is correct: You get what you pay for, so it's better to make a larger initial investment for a machine that will last, rather than going cheap and purchasing a poorly-made shooter that will need to be replaced before long.
Read on to discover our reviews of some of the best tennis ball shooters on the market as of 2022.
The Spinshot Player has now been around for several years now. It quickly became one of the most popular ball shooters around, thanks to its middle-of-the-road price tag and huge number of features. One of the most interesting features is the ability to run the device from your phone.
By downloading the Spinshot app, you can program the machine to run specific drills with specific shot types. The app comes with several pre-created drills, but you can make your own as well, customizing the speed, spin, direction, height, and feed rate. This is a brilliant feature that shows that Spinshot was thinking outside the box and trying to go the extra mile to make their product a winner.
You don't need the phone app, of course. The side panel of the machine has buttons that offer the same options. Check out this video which gives a basic lowdown on the device. The amount of options available regarding ball speed, angle, height, and topspin are pretty amazing.
The Spinshot Player holds 120 balls, which is more than enough for most practice sessions, and it's much smaller than big shooters like the Lobster Elite, so it earns high marks for portability. It can shoot balls as fast as 68 mph for serious players, but it can go much lower for those who prefer a lower speed.
We're struggling to come up with any serious criticisms of the product. The price tag could turn some people off. It's definitely a major cost and some players may be reluctant. But for folks who are serious about stepping up their game and are willing to put their money where their mouth is by making the investment, we highly recommend the Spinshot Player as the top ball machine available as of 2022.
Read our review of the Spinshot Player Tennis Ball Shooter
---
What took Wilson so long to get into the tennis ball shooter business? We're not sure, but we're grateful that the company which has made some of the best tennis rackets, tennis court nets, and ball hoppers for years is now finally manufacturing launcher machines as well.
This Wilson Portable Tennis Machine is a reliable product, as you'd expect from this brand. It might be the best combination of quality and price, as it's cheaper than some of the more expensive ball launchers.
The Wilson ball launcher can provide topspin and underspin, it can fire balls up to 75 mph, and you can change the trajectory to receive anything from groundstrokes to lobs. This product holds up to 110 balls and the rechargeable battery will give you at least 4 hours of play between charges. There's also a towing handle, and it comes with a three-year warranty.
And, for what it's worth, the Wilson ball dispenser looks sleek and attractive. While some of the products on this list are an unfortunate shade of green, the Wilson machine is black, with the bright red Wilson logo on the side. It looks very cool.
---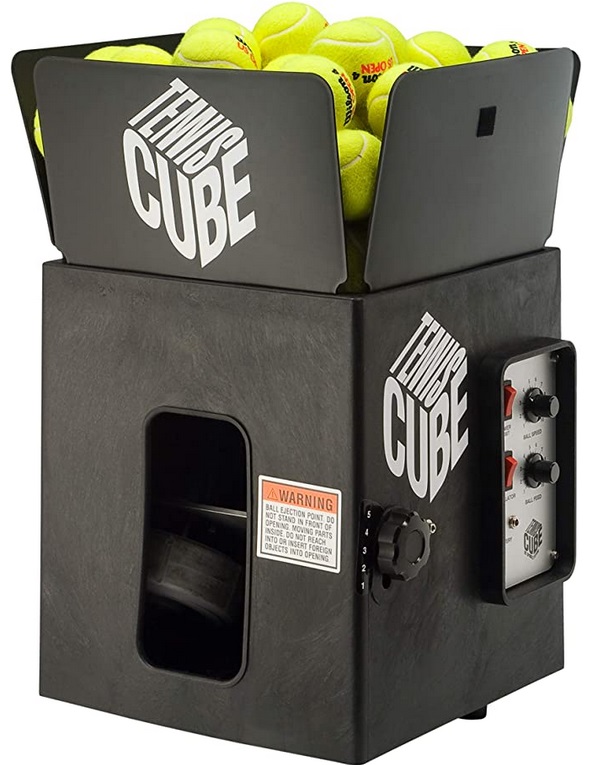 If you need an affordable tennis ball machine, the Sports Tutor Tennis Cube is your solution. This is one of the cheapest budget options we've found, yet it still does everything you need a tennis machine to do.
The Sports Tutor has 10 speed settings, so you can vary the pace on the shots (from 10 to 50 mph.) It also has an oscillator, which will hit balls at you from different angles.
This machine can hold 70 balls. That's lower than some other ball shooters, but at this price, it's still a solid capacity. It only weighs 24 pounds, which makes it far easier to transport than some of the larger models that have to be wheeled or dragged around.
Overall, we love the Sports Tutor and think that folks on a budget who still want to practice with a ball dispenser will get a lot of mileage from this one.
---
Lobster has been the biggest name in the tennis ball machine business for years now, and the Elite 3 is the company's high-end offering. While the most basic ball machines only shoot flat horizontal balls to the baseline, the Elite 3 has it all in terms of shots, spin and speed.
This device is a cannon, with top speeds reaching 80 MPH. It can throw balls all over the court, mixing up topspin and backspin, and using various angles to test your speed and ability to react to different types of strokes. That versatility makes it one of today's top tennis ball shooters.
The Elite 3 boasts about its "narrow and wide two-line oscillation." The machine can fling balls from one end of the court to the other, allowing you to demonstrate your footwork and alternate between forehands and backhands. Of course, you also have the option of working in static mode, which means that it will shoot the exact same type of ball every time – perfect if you're trying to work on one particular shot.
The Lobster brand tennis ball shooters hold up to 150 balls at a time and shoots them off every 2 to 10 seconds, depending on your preference. The battery runs for 4-8 hours, giving the machine very high marks in terms of endurance and battery life.
Are there any downsides to the Elite 3? Just a couple minor drawbacks. For one, the balls lose speed the more spin you add, but that's to be expected of most any model. And its weight of 44 pounds is 8 pounds more than some of the more basic Lobster models. But its giant wheels allow for easy portability, so it's easy enough for tennis players of any size or gender to move it around.
The Lobster Elite 3 is small, less than three feet tall, and features an ergonomic folding handle that helps it collapse for easy storage. Are you willing to spend good money on a versatile, reliable tennis ball shooter? If so, you can't do much better than the Lobster Elite 3.
---
Expensive But Durable Tennis Ball Machine: Playmate Ace
North Carolina-based Playmate is another respected name in the tennis ball machine industry. The company makes several styles of battery-operated ball shooters, including the Half-Volley, the Volley, and the Ace, all made of sturdy metal rather than plastic.
So what does the Playmate Ace offer for its hefty price tag? It can hold a full 200 balls at once. That means you'll be able to get in a ton of practice before having to refill the hopper. It offers both topspin and backspin settings, a two-function remote control, and a limited warranty.
The control panel includes all the features you'll need: Ball speed, ball height, spin (the amount of topspin or backspin), feed rate (how quickly you want the balls to come at you, from 1 to 20 seconds), and direction. You can toggle which direction you want to shoot the balls (left, right, or center), so that you can properly practice your forehand or backhand.
The Playmate Ace launcher also comes with a manual that describes a couple of suggested drills. The instructions provide the exact settings to use if you want to tackle the recommended drills.
The real reason you're paying big money for the Playmate is that, unlike the overwhelming majority of ball shooters, the Playmate is made of metal rather than plastic. That means it's super-durable and likely to last much longer. When you buy a Playmate, you should be expecting several years' worth of use, so consider it a worthwhile long-term investment.
---
Basic Tennis Ball Shooter: iSAM Extend
With its big green bucket design, the iSAM (from Match Mate Tennis) won't win any style points. It's actually not very attractive at all. But you're concerned about improving your game, not the aesthetics of your practice machine, right?
You won't mind the loud green color once you experience the 5-7 hours of playing time the iSAM can provide on one battery charge. And the whopping 300 balls it can hold at one time. There are five levels of elevation control, and you can adjust the pace of the shots between 15 and 65 MPH using the simple control panel.
The ball hopper that holds all those tennis balls can be removed and placed over the machine when the device is not in use. The only caution we have with the iSAM is that it's more of an unknown commodity than the Lobster Elite. The iSAM hasn't been around nearly as long and has only a few online reviews. So it hasn't yet built up the same wealth of support and passion over the years. The iSAM may not be one of the most well-known tennis ball shooters, but it's a good buy for the price.
Because it doesn't have the same advanced-level shot selection and spin control as the Lobster Elite 3, the iSAM is most appropriate for beginners and intermediate-level players. Those who are very advanced will want to buy a ball machine with a few more options.
Ball shooters are great for beginner tennis drills. The constant repetition is a great way to add some consistency to your shots. That's another reason to consider purchasing one!