Hey there, tennis newbie! If you've recently begun playing tennis, you've made a great decision that will lead to lots of fun, get your competitive juices flowing, and provide lots of health benefits.
So now you're asking yourself… which are the best tennis racquets for beginners? While newcomers to the sport may have some differences in terms of age, endurance, and mobility, their needs are generally the same. Adult beginners need a racket that will provide consistent power and control while being forgiving of your mistakes.
After playing for more than three decades, we can confidently offer some tips for finding the best tennis racquet to suit your needs as a beginner or a player returning to the sport after a long time away.
Rather than overwhelming you with 20 or 30 different models, we've selected the five we think are most appropriate for amateurs just starting out in the game. Here are our top five beginners' rackets as of 2022.
Best Tennis Racquets for Beginners Buyers Guide
The Head TI S6 is one of the most popular tennis racquets out there. Lots of players of all ages and skill levels use it, but because of its huge 115 square inch head, the TI S6 is best for beginners who need the larger sweet spot to overcome their initial struggles with accuracy and consistency.
You'll notice that on Amazon this racquet comes in various grip sizes ranging from 4 1/8 to 4 5/8. You can choose an average size in the middle, or use this resource to determine the most accurate measurement.
One caution with a racquet this big: Eventually, when your game progresses, you'll want to switch to a smaller racquet (in the 95-100 square inch range) that provides more feel and touch. So this is a good starter racquet, but be prepared to make a change when you start getting really good.
Highest-Quality Beginner Racquet: Babolat Drive Max 110
With a 110-square inch head, the Drive Max has a nice, large sweet spot, which makes it a forgiving racquet that offers good power for the average player. The Max Drive is not necessarily great for spins and controlled shots, but those are intermediate-to-advanced shots that you won't be hitting as a beginner anyway.
Babolat is a high-quality name in the world of tennis, so don't be surprised when you see that its racquets are quite a bit more expensive than many other brands. It's up to you to decide whether you want to make the large initial investment required to purchase a Babolat, or if you'd rather go with something more affordable.
But there's certainly no denying the quality of the Babolat Drive Max. Babolat also makes a great vibration dampener, another great product for tennis newbies.
Coming in more on the budget side (in fact, it's one of our picks for best cheap tennis racket) is this Wilson XL Energy racket, which comes in a cool yellow and black design. At 10.2 ounces, it's slightly heavier than some of the other options on our list of the best tennis racquets for beginners.
That extra weight isn't a bad thing, as it provides a bit more stability, and getting used to a heavier racquet will help prepare you for your eventual switch to an advanced-level racquet, which tend to be on the heavier side.
The Wilson XL Energy isn't a racquet that is going to hold up over several years of competitive play, but as a starter stick it's solid. It provides 112 square inches of head space, more than enough to offer a large sweet spot.
Anyone who has played sports will recognize the Wilson brand name. The company has always offered products that balance affordability with quality, and this racquet is no exception. It is clearly one of the best tennis racquets for beginners who are just taking up the sport.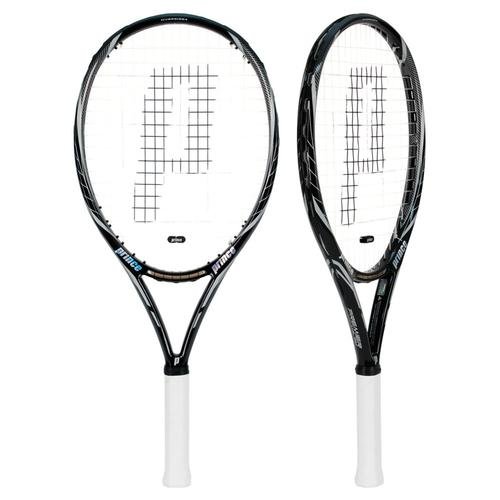 Most oversized beginners racquets, because of their large head sizes, do not provide precise control and are not great for putting spin on the ball. But the Prince Premier 115L has a special ESP (extreme string pattern) technology and a 14 x 18 string pattern that gives players the opportunity to put more spin on the ball if they so desire.
That means this racquet could be appropriate for someone who wants to improve rapidly and believes they can begin playing at a higher level before too long. The 115 square inches of head size are quite large and good for newcomers.
One caution: Make sure to check the notes next to the seller's name on Amazon, because some sellers of this product sell it unstrung, which is not what you want as a beginner. You'll want to buy a racquet that is pre-strung so you can just pick it up and begin playing.
Best Affordable Beginner Racquet for the Casual Player: Wilson Federer Racquet
Any product with Roger Federer's name on it is going to command instant respect. He's only the greatest tennis player of all-time, after all. Roger has his name on a lot of products. This one by Wilson is a simple starter racquet with a comfortable grip and a solid 106 square inches of head space.
A handful of users have reported that their racquets broke after heavy use, but as a beginner you most likely won't be playing often enough for that to be a factor. Those who want to play several times a week should choose a different racquet. Those who play occasionally and want a sturdy, reputable racquet with tons of solid reviews should consider the Wilson Federer.
Factors to Consider When Choosing A Racquet for An Adult Beginner
Head size. Smaller tennis racquets have about 95 square inches of head size, but those usually aren't great to start out with. Adult beginners want a larger head with a bigger sweet spot that can help cover up your mistakes. Most beginner racquets have at least 105 square inches, which provides more power with minimal effort and a more forgiving bounce.
Racquet Weight. Generally, lightweight racquets are better for beginners since heavier racquets require more strength and the kind of stroke precision that comes with years of repetition. The best tennis racquets for beginners should ideally weigh less than 10.5 ounces. All of our recommended items weigh in well below that figure.
Racquet Length. This one corresponds with head size. Longer racquets usually have more head size and allow players to extend their reach, which means you'll be able to chase down more balls when your opponent has you on the run. A racquet length of 27.5 is longer than average, and that's appropriate for newbies to the sport.
As noted earlier, when your tennis game improves and you start progressing to higher levels, you will want to invest in a smaller racquet or perhaps even start stringing your own tennis racquet. But as a beginner, any of these models will do a great job of allowing you to learn and grow in one of the greatest games in sports.