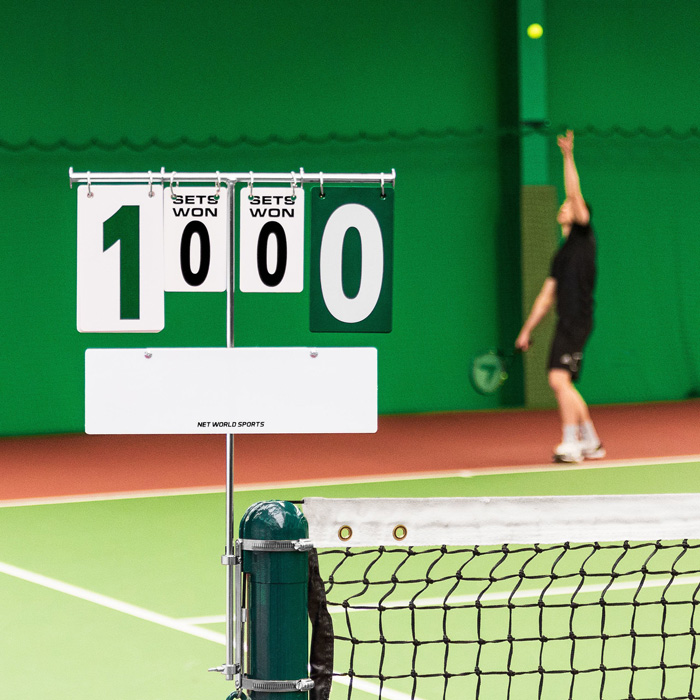 Have you ever played with a tennis score keeper? This small scoreboard device – usually metal or plastic – can be set next to the tennis court to tally games as each set goes along. Some of them cost less than $10, while others that are more well-made can be significantly more expensive.
What's the purpose of a tennis score keeper? Duh, to keep score! But you knew that already. Besides keeping an accurate tally of games and sets won, a good scoreboard should have large enough numbers that it can be seen from all areas of the court. That way, if you forget the score, you can just glance over and get a reminder.
If you've never played with a score keeper – and I didn't for many years – you may be surprised at how such a minor thing can affect your mental game. Not having to obsess about the score in your head frees up your brain to focus exclusively on strategy and adjustments that you may need to make as the match progresses to outlast your opponent.
We've checked out the available score keepers and scoreboards, and these are the ones that give you the best value for your dollar. Here are our choices for the top tennis score keeper.
The Best Tennis Score Keeper
Vermont Professional Tennis Scoreboard
Why is the Vermont scoreboard the best tennis score keeper currently available? Well, for starters, it's designed specifically for tennis. Many of these scoreboards are multi-purpose and multi-sport, but this one is strictly for tennis.
That means it's the only score keeper to offer "sets won" score holders. The device has outer numbers which are used to track games in a particular set, while the inner numbers track the sets. The numbers are large and easily visible. The whole thing uses a green and white color scheme, so you can pretend like you're at Wimbledon.
The Vermont model also comes with a chrome-plated steel frame and clamp brackets that attach to the net post. That's a sweet feature that most score keepers do not offer. The post even rotates so you can display at the precise angle you want.

The Vermont tennis score keeper costs more money than most of these, so it's best for folks who know that they definitely want a score keeper, and they want the top product on the market. This one will probably last as long as you continue to play tennis.
Other Tennis Scoreboards Worth Considering
Tourna ScoreTube Tennis Net Post Score Keeper
Pros: This Tourna score keeper attaches to the net and is easily visible. And it comes from Tourna, who also make one of the top ball pickup tubes, so you know it's durable and reliable, and comes with a clamp to secure it to the net post. The Tourna ScoreTube comes in three different colors – blue, black, and white.

Con: You have to use old tennis balls to keep score. When you win a game, just stuff in a ball next to the "1" on one side of the ScoreTube. Move the ball up as you continue to win additional games. There's nowhere to keep track of sets won. But it's highly unlikely you'd forget how many sets you and your opponent have won during the middle of a match.
Tourna Portable Net Scorekeeper
Here's another option from Tourna. This Tourna portable net scorekeeper is more of a traditional score keeper, with individual numbers that you flip as the score rises. The numbers go from 1 to 6, so hopefully you won't get stuck in a final-set battle at 12-12 or something. The numbers are on both sides and they are large (close to 6 inches in height.)

This product hangs right on the net. It's pretty easy and quick to put together. This scorekeeper is cheaper than the others we've mentioned so far, so it's a better value if you don't need the bells and whistles of the Vermont professional scoreboard.
BSN Sports Manual Scorekeeper With Adjustable Stand
This BSN Sports model is similar to the Tourna scorekeeper, except that it comes with its own stand, so you don't have to drape it over the net. It comes with an extendable base that can be raised up to 38 inches off the ground. The numbers are bright red and white. The contrast between the colors make it very easy to read the score at all times.

The numbers on the BSN Sports scorekeeper go all the way up to 99, so this stand can be used for many different sports. That's nice for folks who play sports other than tennis. Another feature that's unique to this product is the small dry-erase panels beneath each score. That allows you to write your name (or team name, if playing doubles.)
Upstreet Portable Flipper Scoreboard
The Upstreet scoreboard is a pretty standard portable score keeper with white numbers on red and blue backgrounds. The numbers can be flipped manually. There's also a black and white model available if you prefer that to the colors. This is a budget-friendly product that can be used for many different sports.

You see this type of scoreboard all the time at amateur sporting events, especially volleyball. Though it's not made specifically for tennis, the Upstreet model does the job. You can use either the inner set of numbers to track sets won, and the outer numbers to track games won.
GOGO Tennis Score Keeper Number Cards
For the cheapest possible tennis score keeper, go with this set of GOGO number cards. This is just a group of PVC numbers on rings. You set them on the ground (or drape across the net) and flip the numbers as the match progresses. The number cards are about 5 inches high.

This package comes as a set of two numbers, one for each player. You can choose between black and white, red and white, or red and black. It's super-affordable because it's so basic. But if basic is all you need, the GOGO might do the trick.
So there you have it! Buy a bulk package of tennis balls, head to the court with your score keeper, and take down your rival!