If you're a tennis instructor or you practice with a tennis ball shooter, you may be in the business of purchasing several hundred tennis balls at a time. Where can you buy tennis balls in bulk?
In a hurry? We recommend the Gamma Pressureless Bucket-O-Balls.
You may be able to find used balls for well under $1 per ball, but those aren't going to be high-quality balls that you can seriously improve your game. When it comes to repetitive hitting on the practice court and playing matches with opponents, you need high-quality balls.
Here are some of your best options for locating dozens of balls at a relatively affordable cost. We've got cheap tennis ball suggestions from Amazon, Dick's Sporting Goods, Tennis Warehouse, and more retailers.
Where to Find Bulk Tennis Balls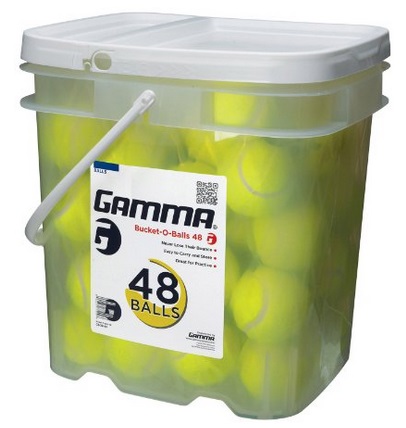 The question of whether to use pressureless balls is one that players disagree on. Some players notice no difference between pressureless balls and standard balls, while others notice major difference in terms of bounce, predictability, and durability.
Interestingly, some tennis machine manufacturers recommend using pressureless balls in their devices. So if you don't mind using pressureless balls for your practice needs, consider Gamma's Bucket-o-Balls. These balls come in 48-packs and 75-packs. Prices fluctuate on Amazon, but currently, the 75-pack is available for around a dollar per ball. Remember that shipping is always free on orders of $25 or more at Amazon.
The Deal: 36 balls for $40 = $1.11 per ball (before online discounts)
The base price of Penn's 12-pack at Dick's is $40 for 12 cans (36 balls), which works out to about a dollar each. What makes this an attraction option is the fact that Dick's typically offers some sort of special online coupon. As of this writing, Dick's is offering 10% off orders for new signees to their email list. They also offer $20 a purchase of $100 or more for folks who sign up for text alerts.
So you could conceivably buy three of these packs and use the $20 off coupon. Dick's also currently offers free shipping for online orders over $65. So that would make the final cost $100 for 108 tennis balls, or less than a buck each. For high-quality Penn balls, that's a sweet deal. That is one of the better online deals you can find for a brand name tennis ball.
Dick's does not offer all of these promotions all the time, which is why you'll have to do some comparison shopping on various sites to get the best deal when you're ready to purchase.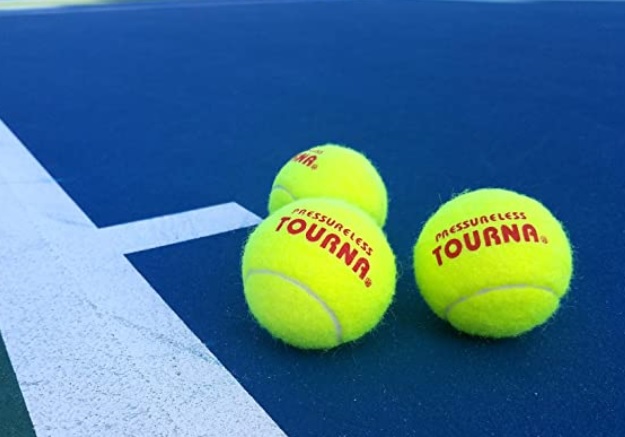 Here's one more good deal from Amazon. Tourna offers a large bag of bulk tennis balls for around $1 a ball. That's pretty much the cheapest price these days with the recent level of inflation. This is a pack of 60 balls, which should be plenty to get you through several practices or instructional sessions.
This product is not fancy – the balls literally come wrapped up in a clear plastic bag with a drawstring. And they have a bright red logo slapped on each ball. But for folks who just want a good price, the Tourna bulk bag of balls (again with free Amazon shipping) could be the way to go.
Dunlop Extra Duty Balls
The Deal: 72 balls for $55 (plus $6 shipping) = 85¢ per ball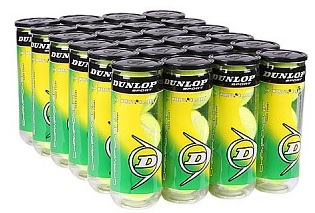 One of the cheapest online options for ordering balls is Tennis Warehouse, which as of this writing has several bulk tennis ball packages available. The most affordable is a 24-pack of Dunlop tennis balls for $54.95 plus shipping. Shipping is only to the continental U.S. and runs about $5.95 for most locations (slightly less within California.)
That works out to about 85¢ per ball, one of the best prices you can find for a decent brand in bulk. If you're not a fan of Dunlop, Tennis Warehouse also offers 72-ball packs of brands like Penn ($60 plus shipping), Wilson ($60 plus shipping), Prince ($90 plus shipping), and Slazenger ($99 plus shipping).
Other places to buy tennis balls in bulk
eBay is another good option to buy tennis balls in bulk, but you never know what you're going to get at any given time. If you find a deal you like, make sure to buy from a reputable seller who has positive feedback.
Looking for the absolute cheapest tennis balls near you? Local department stores like Walmart carry generic bulk tennis balls for around $4 for a can of three balls, but those tend to be very low-quality, so remember that you get what you pay for. You'd also have to buy several packages to get the total amount you need.
That's our recap of the best places to buy bulk tennis balls as of this moment. Don't forget to recycle those balls when you're done with them!