Knee injuries and discomfort can be a fact of life for experienced tennis players, but it's still possible to take to the court with some proper precautions.
Which is the best knee brace for tennis? That depends on your specific needs, but Mueller, Donjoy, and McDavid are among the companies that manufacture quality braces that offer knee support and stability.
Factors to consider: Would you prefer a velcro-strap knee brace or one that is hinged? How bulky do you want the brace to be? Are you capable of running down drop shots and lobs while wearing a larger brace, or would you prefer a smaller sleeve or patella strap?
Keep reading for a collection of what we believe are the best braces, sleeves, and straps on the market to provide knee support for tennis players.
Note: This post represents one writer's opinion on knee braces for tennis players. Always do your own research, and consult a medical professional if you have health or injury concerns.
Reviews of the Best Knee Brace for Tennis Players
I can personally vouch for the Mueller knee brace, as I've used it for many tennis matches and for playing volleyball as well. The velcro straps may require some trial and error – a couple times, I caused myself some discomfort by tightening them too much.
But once you figure out the best fit, you will likely be pleased with the results from this sports knee brace from Mueller. Lightweight but sturdy, the adjustable Mueller knee brace is one of the more reliable products available, and it's also very affordable.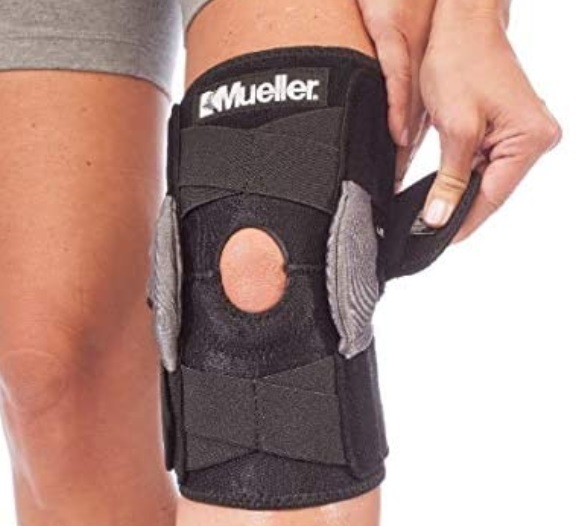 Some people prefer the hinged brace over the velcro models, believing that the heavier materials of the hinged products provide more sturdy support. If that's the case for you, consider Mueller's hinged model, which blends hinges with velcro.
The hinged knee brace uses mounted metal hinges with a mostly neoprene and nylon design to add support without sacrificing comfort. You can manually place the hinges so they fit perfectly on your knee. Make sure to take them off before washing.

While not a traditional tennis knee brace, this compression sleeve from Ultra Flex Athletics is one of the best sellers online and one of the top-reviewed knee support items. The Ultra Flex is designed to serve as a knee brace for running, playing tennis, or just basic daily support for people with arthritis, ACL issues, or other knee concerns.
Reviews for the Ultra Flex are universally positive, with one caveat: It comes in three different sizes, so be sure to consult their sizing chart to get the one that fits snug without being uncomfortable.
To get first-hand info from people who have already purchased them, you can find YouTube user reviews for many of these braces. Here's a video clip from the owner of the Ultra Flex:
The popular McDavid knee brace features steel stays along the sides to add strength. Its neoprene thickness retains heat, and the unique cross-straps provide ligament stabilization. Unlike the Mueller, which is "one size fits most," the McDavid is manufactured in various sizes from Small to XXLarge.
The company has a convenient sizing chart on its Amazon listing that describes exactly how to measure around the patella. It's slighty more expensive than some other braces, but the stability and sturdiness make it worth the cost.

Patella straps are perhaps more common among volleyball and basketball than tennis players, but they can be effective for any athlete who runs and jumps. The McDavid patella knee strap helps people with tendonitis, jumper's knee, and other conditions by providing constant compression on the tendon.
The McDavid strap can be used on either knee, and just for the heck of it, it comes in four different colors.
The brand Donjoy is known for its quality braces that are designed for people with significant knee problems. Many of Donjoy's knee braces are quite extensive, with large aluminum or plastic rods, but the Tru-Pull brace is a nice exception.
It's lightweight and constructed from breathable fabric that make it appropriate for tennis players to wear during matches. The Tru-Pull has plastic hinges for support, but they can be removed if you find them uncomfortable or heavy.
Conclusion: Tennis Knee Braces, Straps and Hinges
As these examples indicate, knee braces come in all sorts of sizes and designs. Tennis is designed to be a sport of healthy, lifelong enjoyment, so you don't want to give it up before you absolutely have to.
The best knee braces and knee sleeves for tennis should help you relax and forget about your knee support so you can focus only on beating your opponent. Consult with your physician if needed and find a brace that works for you!
If you're also having elbow issues, see our article on the top elbow supports for tennis players.