Once your game advances to the point that you're buying premium tennis racquets, it may be time to consider purchasing a tennis stringing machine.
Sure, you could outsource your stringing needs, but if you play a lot, you may save money in the long run by picking up a stringer for yourself. See our article that reviews the pros and cons of stringing your own racquet.
The best tennis stringing machine on the market has three important features:
–Racquet support: A stringing machine that puts too much stress on the racquet during the stringing process could end up making cracks in the frame, which spells death for a tennis racquet.
–High quality clamping system: Clamps should be adjustable and provide proper support so the strings are aligned properly with damaging them.
–Tensioner: The tension system must provide accurate string tension across the racquet head.
There are dozens of stringing machines available, and you could drive yourself crazy trying to compare specific features between them.
We've simplified things by singling out three stringers – one for each price level (top-of-the-line, mid-price, and budget) – that are proven winners based on reviews, price, and brand history.
The Best Tennis Stringing Machine Options
The Gamma ELS Stringer is an electronic constant pull tensioner tennis stringing machine. Electronic machines are better than the more basic stringer models listed below because of their precision. You won't have to worry about accuracy with this model.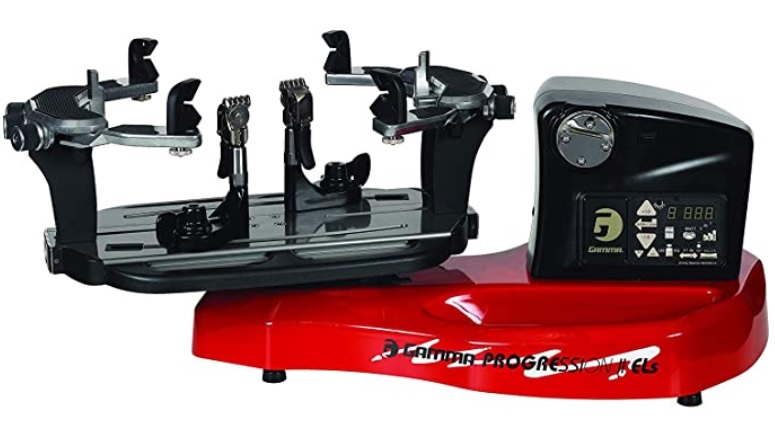 The Progression ELS includes a pathfinder awl, straight awl, hex wrench set, straight pliers, and multiple sets of actual strings. The machine provides from 9 to 90 pounds of constant tension and has 360-degree turntable rotation with a locking brake. Additional features include 9 memory settings, a foot pedal option, and fixed clamps that hold racquet frames securely in place.
Many high-end stringing machines come with stands, but this one does not. You'll have to set it on a table to use it. The lack of a stand does make the machine a bit cheaper and more portable than standup models. Overall, the ELS offers professional-level stringing quality.
Gamma is one of our favorite tennis equipment brands – they make great ball carts and hoppers too.
If your budget doesn't have room for a an expensive stringer, take a long look at the more affordable Gamma X-6 stringer. This one's actually the best-selling stringer on Amazon, by a mile. And it's quite a bit cheaper than the Progression ELS.
The Gamma stringing machine has been on the market for more than 15 years, making it an established commodity in the tennis stringing machine field. It features a 6-point Quick Mount system that adjusts easily to any size racquet frame and diamond-coated, swivel string clamps with a self-locking knob.
There are two similar products here, the X-6 and the X-6FC. The difference is that the X-6FC, as its name suggests, has fixed clamps, while the X-6 has floating string clamps. The X-6FC may be superior in terms of ease of use and ability to precisely establish proper string tension. But both are outstanding choices at the mid-point price range that most casual and regular tennis players can afford.
The X-6 will require a bit more effort than the electronic X-ELS model, of course, but you'll be hard-pressed to find a better stringer in this price range.
You can find a number of cheap or affordable stringing machines, but finding a good one at that price point is a challenge. We'll make it easy for you: Consider the Klippermate Tennis Racquet Stringer.
This machine is durable, affordable, and comes with all the tools you need. As noted above, the clamps are a hugely important part of any tennis stringing machine, and the Klippermate's clamps are made of steel rather than plastic or aluminum, which is why it has been proven to last several years after repeated use.
Other key points to note: This machine is made in the USA, and it features a 30-day money back guarantee as well as a lifetime warranty for parts and a very detailed set of instructions. Initially, the first couple of string jobs may take some time, but once you get the process down, you'll be able to restring a racket with this machine in well under an hour.
More Tips and Info About Tennis Racquet Stringing
What's the proper string tension for your style of play? Which are the best tennis strings for you? The answers depend on many factors, including how hard you like to hit the ball and how much you use spin.
For more detailed info on string tension basics, see this guide. And for more on specific differences between clamp and crank styles, see this guide.
How do you go about using a stringer? The 20-minute video below is a good introduction. It utilizes the X-2 Gamma stringing machine: